Wild swimming in Slovenia
There is nothing better than finding refreshment in a lake, a river, or in the sea after a day of trekking in Slovenia or biking in Slovenia. Fortunately, Slovenia is one of the most water-rich European countries. It boasts about 28,000 kilometers of watercourses, some 300 lakes, and numerous majestic waterfalls, as well as potable water of incredible quality. During summer, crystal clear waters can be enjoyed at 48 official bathing areas and various unofficial ones. Many are located right by our trekking in Slovenia and biking in Slovenia routes. Here are some of our favourites.
Lake Jasna
The gorgeous Alpine Lake Jasna is situated just next to the charming town of Kranjska Gora. It consists of two interconnected artificial lakes at the confluence of the Velika Pišnica and Mala Pišnica streams. The lake is guarded by a statue of a Zlatorog (golden horn), the legendary chamois of Mt. Triglav, who loves to pose for the camera. During winter, Jasna is mostly frozen and it doesn't warm up too much during summer either. This is why jumping in will surely invigorate you. While you warm up on the shore, you can admire one of the most amazing valley views of the Julian Alps that Slovenia has to offer. The area around Jasna Lake is ideal for trekking in Slovenia and biking in Slovenia. Our Around Triglav National Park cycling tour takes you directly to this fairy-tale lake.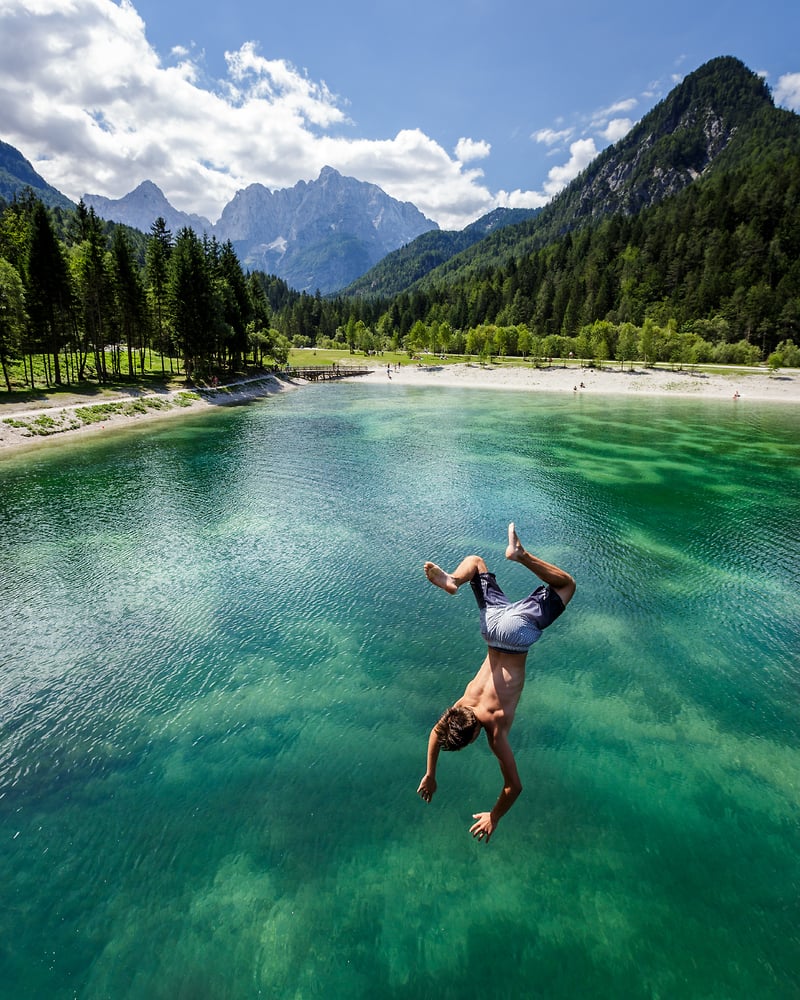 Source: www.slovenia.info
Moon Bay
Have you ever jumped into the Adriatic Sea? Even though the Slovenian coast spans only 42 km, it offers some lovely beach areas. Central Beach in Portorož is surely the most popular one, as well as the largest in the country. If you like being where everything happens, smaller beaches in Piran and Izola are also a perfect choice. If you, however, wish to find peace and authentic contact with nature, then you will enjoy our favourite – the Moon Bay in the Strunjan Landscape Park. As it can only be reached by a steep downhill footpath, the beach here is much less crowded and swimming is more pleasant. You can visit the secluded Moon Bay on the last day of our Trans Slovenia 04 mountain bike tour. The coast hinterland invites for more trekking in Slovenia and biking in Slovenia adventures.
Source: www.slovenia.info
Lake Bohinj
The largest natural lake in Slovenia offers endless opportunities for outdoor activities, especially when it comes to trekking in Slovenia and biking in Slovenia. Lake Bohinj is located in a glacial valley and it comprises almost 100 million cubic meters of water. If your idea of paradise is to dive into clear freshwater, while admiring a stunning natural backdrop, you will love Bohinj. For the best wild swimming experience, we recommend you to go to either Fužina Bay or Ukanc. You can do just that on our sustainable cycling tour Bike Slovenia Green.
Source: www.slovenia.info
River Soča
Last but far from least, is our beloved Soča. Half of the Visit Goodplace team originally comes from the Soča Valley, so it is no surprise this beauty holds a special place in our hearts. The wonderful turquoise colour of the Soča river will make you want to at least dip your feet in it, while swimming is reserved for the brave ones among us. We promise you that whenever you are trekking in Slovenia or biking in Slovenia, there is no such refreshment than jumping into the Soča. The most famous bathing areas are located between Kobarid and Tolmin, all along the route of our Trans Slovenia 01 mountain bike tour.
You can find less icy waters in the nearby River Nadiža, which is considered one of the warmest Alpine rivers. In the summer, its temperature can reach over 20°C. Its crystal-clear pools and well-maintained natural bathing areas tempt many visitors to jump in. According to folk tradition, Nadiža even has healing powers. Are you ready to find out?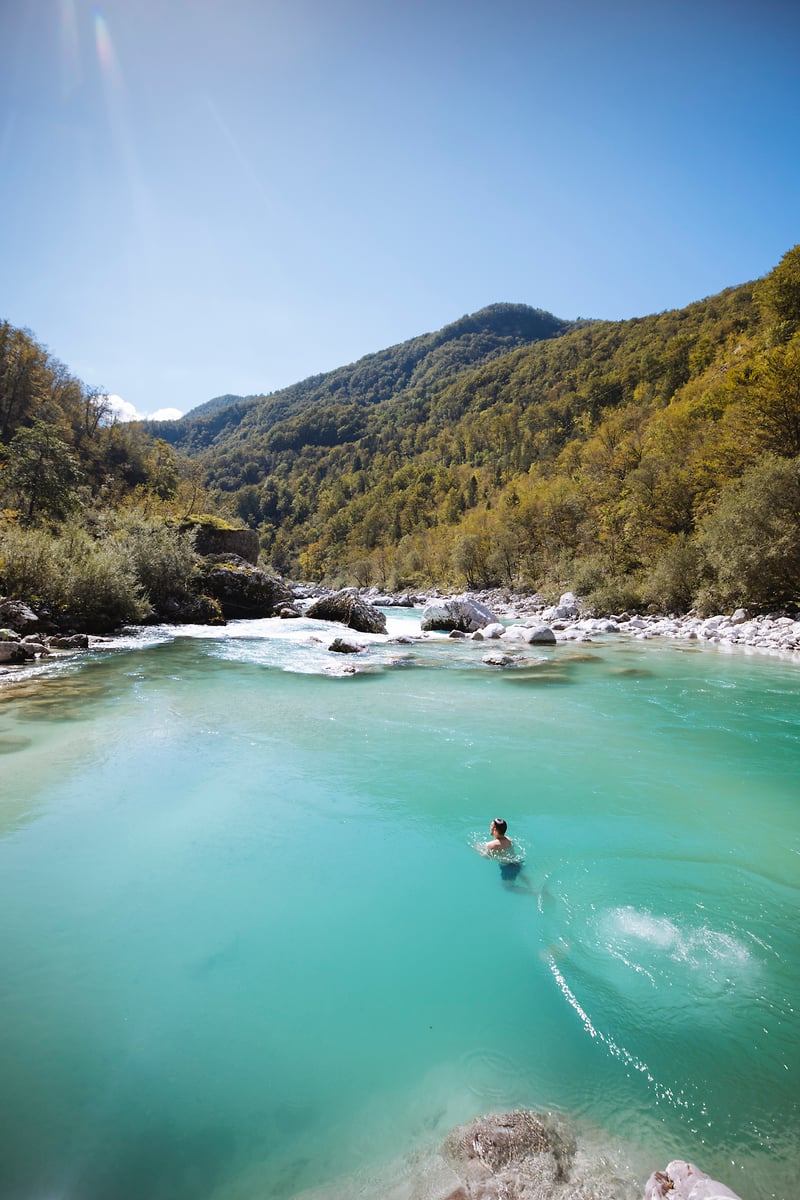 Source: www.slovenia.info
Trans Slovenia 01
mountain biking tour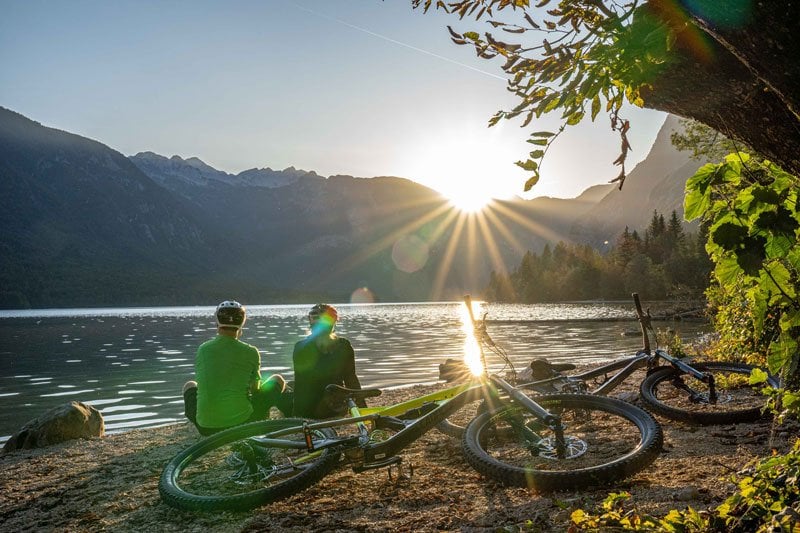 Bike Slovenia Green
cycling tour