Driven by the desire to conquer the rocky peaks and discover the untouched nature, Slovenians have built a century-long tradition of hikingand mountaineering. Today, hiking holds a special place in the hearts of many Slovenians, while it also presents an excellent way for visitors to explore the country's amazing natural beauty. One of the reasons for the popularity of hiking in Slovenia lies in the fact that it takes only a few minutes to get from most settlements onto the nearest hiking trail. The country is indeed crisscrossed with nearly 10.000 km of marked and maintained hiking trailsrunning across mountains, highlands, gentle hills and plains. As many as 352 peaks soar above 2000 m, offering breath-taking viewsof the surroundings.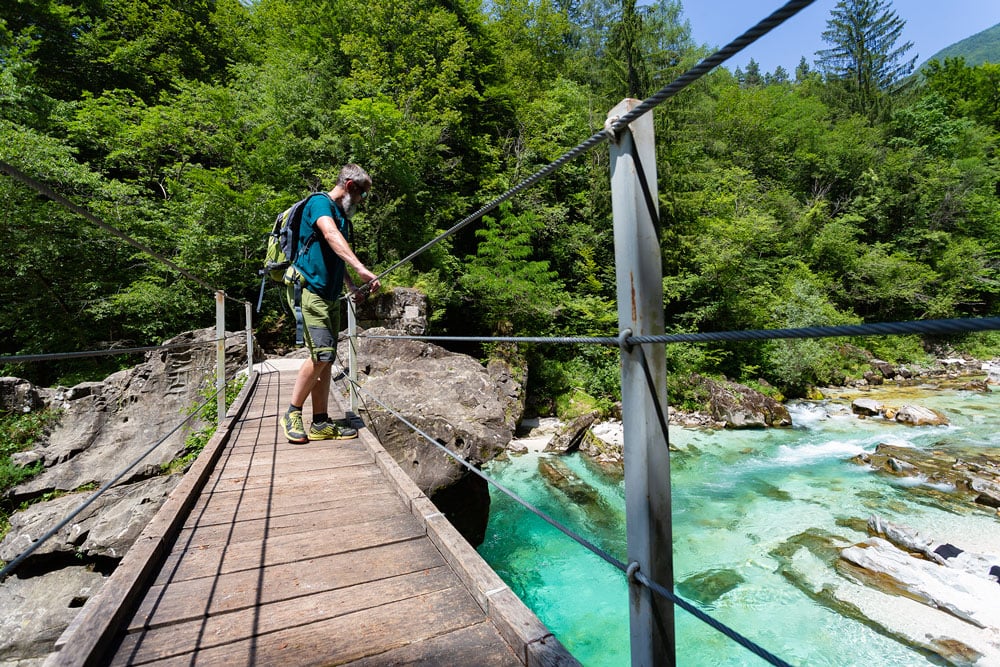 HIKING SEASON IN SLOVENIA
Slovenia is a hiking paradise in every season of the year. While Summer remains most popular with hikers, Spring and Fall invite with mild temperatures, a beautiful array of colors and fewer visitors.  In winter, mountains offer extraordinary experiences. While winter hiking in Julian Alps is only recommended for experienced hikers with appropriate equipment, the majority of Walk of Peace hiking tour stages are also appropriate for winter hiking in Slovenia.
HIKING SLOVENIA'S DIVERSE LANDSCAPE
Diverse landscape caters to different preferences and hikers can choose among a wide variety of hiking routes in Slovenia appropriate for all levels. Whether travelling alone, in company or with your family, the wide choice of trails is sure to include one that's right for you.
The Julian Alps are the highest mountain range in Slovenia that challenges the most skilled mountaineers and Alpine climbers, but also offers less-demanding routes with magnificent vistas over Triglav National Park. Next, the Karavanke Alps invite hikers from the valleys on less difficult, but no less picturesque trails. The third mountain chain in Slovenia that all hiking fans should put on their bucket list, are the Kamnik Savinja Alps that inspire with majestic mountain peaks rising above the lovely Logar Valley.
SLOVENIAN CULINARY
Hiking Slovenia's mountains would not be as enjoyable without over 150 mountain huts, where one can restore energy and indulge in traditional culinary experiences. On weekends in particular, one can detect the aromas of typical Slovenian stews drifting from their kitchens. If you visit mountain pastures where shepherds live, you can expect to be offered žganci (mush) with home-made sour milk.
Along with pristine natural environment and delicious local delicacies, Slovenian highlands allure visitors with rich cultural heritage, which is characterized by typical Alpine architecture, pastoral tradition and other authentic customs.
One thing is for sure. When hiking in Slovenia, make sure to try local culinary specialties. 
WALK OF PEACE – ONE OF SLOVENIA'S BEST HIKING TRAILS
The best way to hike Slovenia's diverse landscapes is to go on a multi-day trekking all the way from the Julian Alps to the Adriatic coast, passing through the incredible Soča Valley in the heart of Triglav National Park, the romantic wine-growing region of Goriška Brda, and the mysterious world of Karst.
The long-distance hiking trail Walk of Peace offers exactly that which makes it one of the best hiking trails in Slovenia. It combines supreme hiking trails running through some of the most beautiful parts of the region with the shocking heritage of the First World War and genuine local hospitality.
At Visit GoodPlace we proudly present our Walk of Peace hiking tour, a perfect choice for outdoor enthusiasts and history buffs alike. 
Check out this video about hiking through Soča Valley!