Istria Gourmet Cycling Route
Description
The Gourmet Cycling Route in Istria is a perfect way for responsible travelers to experience the delicious cuisine of Slovenia, Italy, and Croatia. Istria is known for its beautiful natural landscapes and cycling tours, making it a popular destination for cycling holidays. The route begins in Trieste, a popular Italian town, and takes you across the sea with a short ferry ride. After traveling along the Slovenian coastline for some time, you will arrive in Croatia's inland, where you will cycle through Croatia and discover its cultural riches and scenic shores. As you make your way through Istria, you'll have the chance to experience the unique blend of Italian, Slovenian, and Croatian cultures, providing travelers with the opportunity to sample local dishes from each. This cycling tour is perfect for the beginning and the end of the biking season (spring and fall) and is suitable for all levels of experience.
Along the way, cyclists will enjoy breathtaking views of the shimmering Adriatic Sea, vineyards, and cultural hotspots such as the Arena in Pula, the artistic beehive in Grožnjan, and a UNESCO Heritage Site in Poreč. The Gourmet Cycling Route in Istria is the perfect way to escape to a world of rich heritage and relaxation by visiting lavish hotels that offer top-of-the-line amenities. Explore the region's exquisite food and get ready to taste the best olive oil of the region and indulge in the taste of truffles, a gourmet treat often enjoyed shaved over pasta or eggs. Furthermore, cyclists can also visit several wineries along the route where they can taste some of the finest wines available in the region. 
Indeed, Istria is a place full of tradition, authentic experiences, stunning gastronomy, a touristic coastline with a clear sea, and an interior rich in history, abounding in its greenery …
Highlights: 
Deluxe

cycling holidays

through 3 countries in only 9 days 

Best of

Istrian cuisine, fine dining at Michelin-recommended restaurants, and wine tastings

Discover

luxurious and boutique

5* Hotels

Experience Istria as only an insider can, thanks to the personal connections of our local guide and host

Pedaling along the Adriatic coast and visiting old historic towns 

Ride through vineyards and natural reserves

Swimming in the Adriatic Sea
Check out what fun we had on the scouting tour for the Route: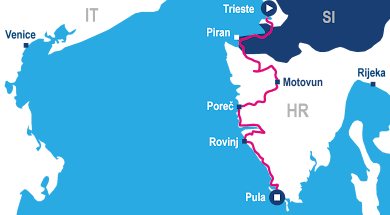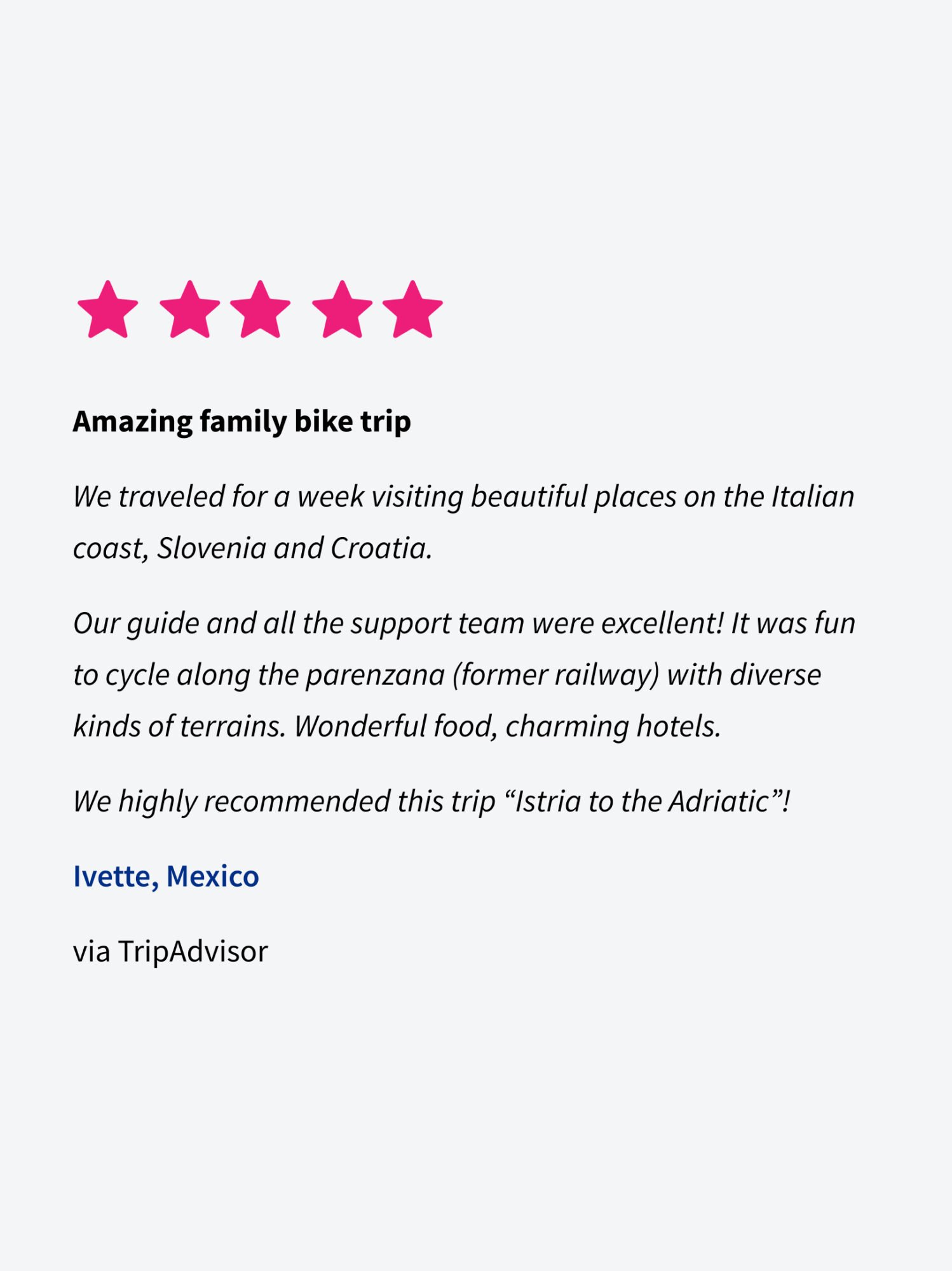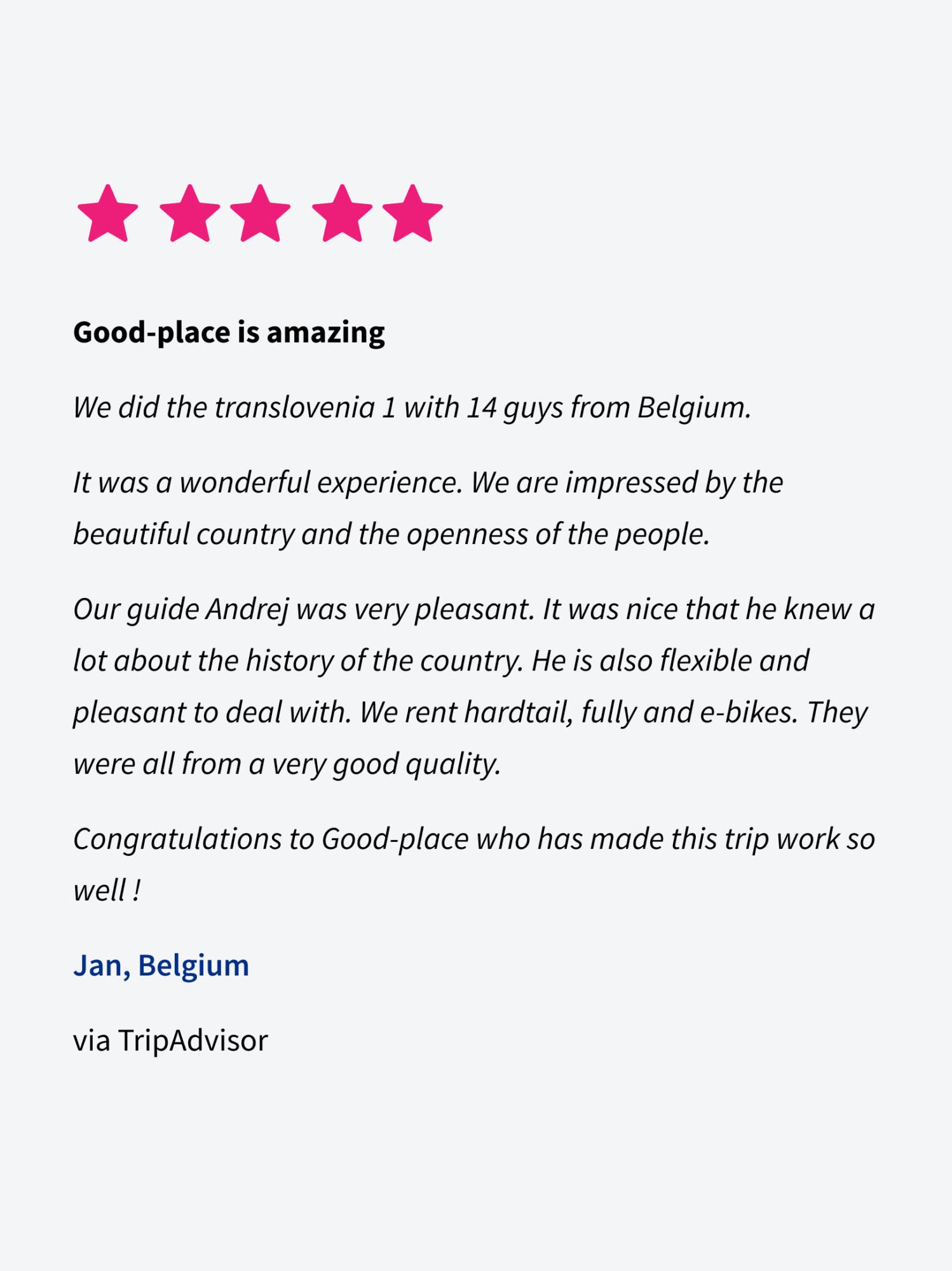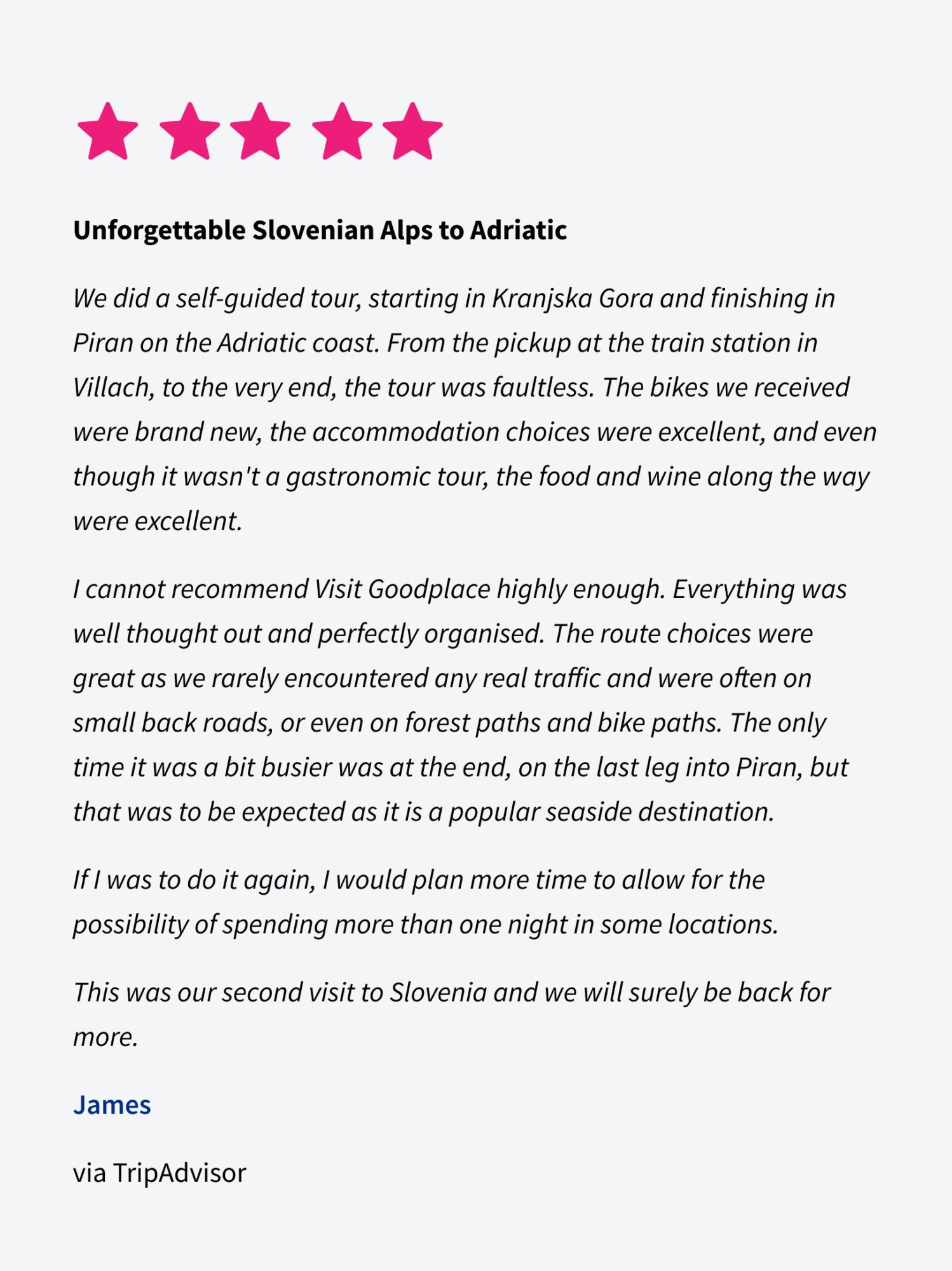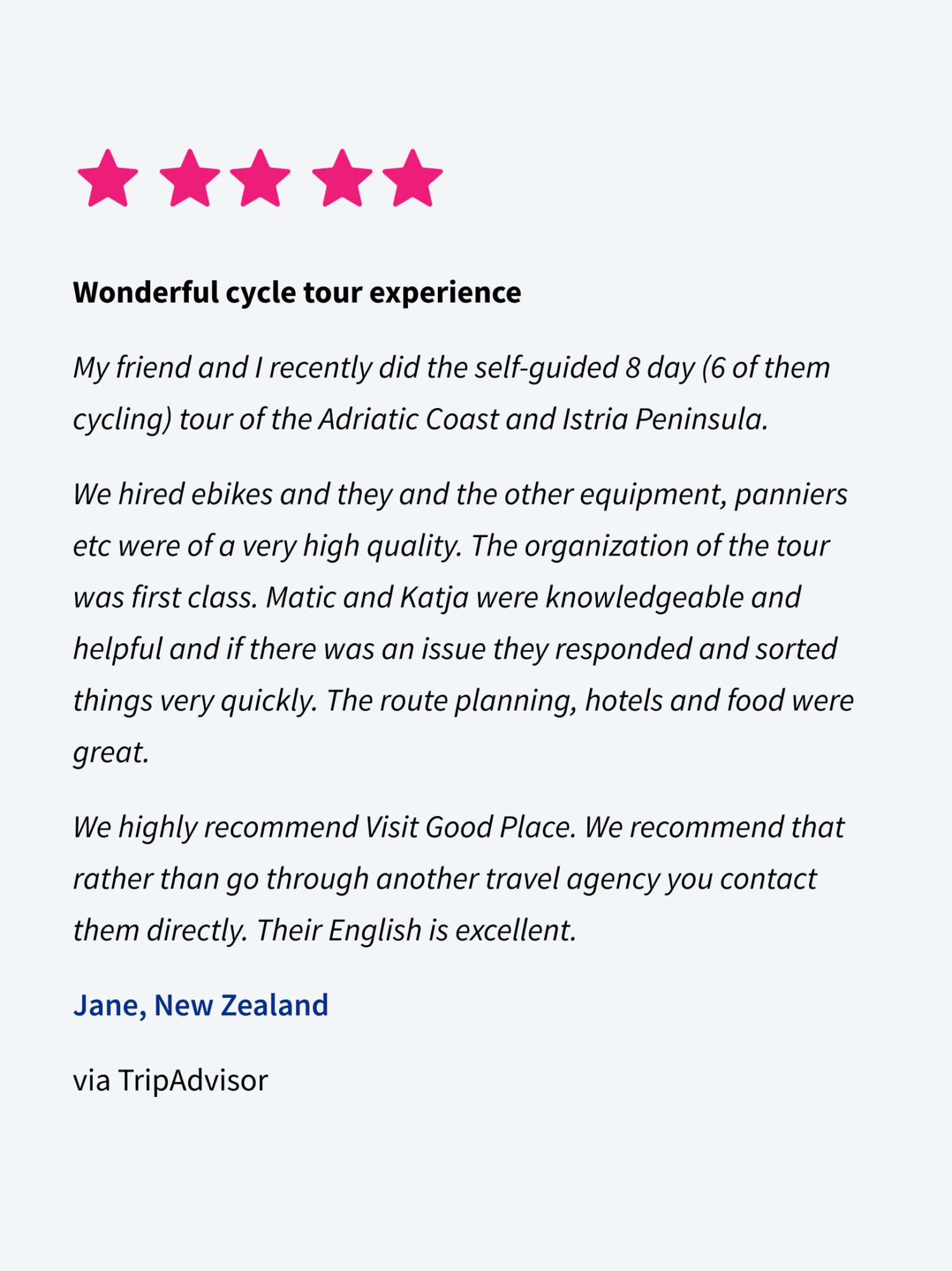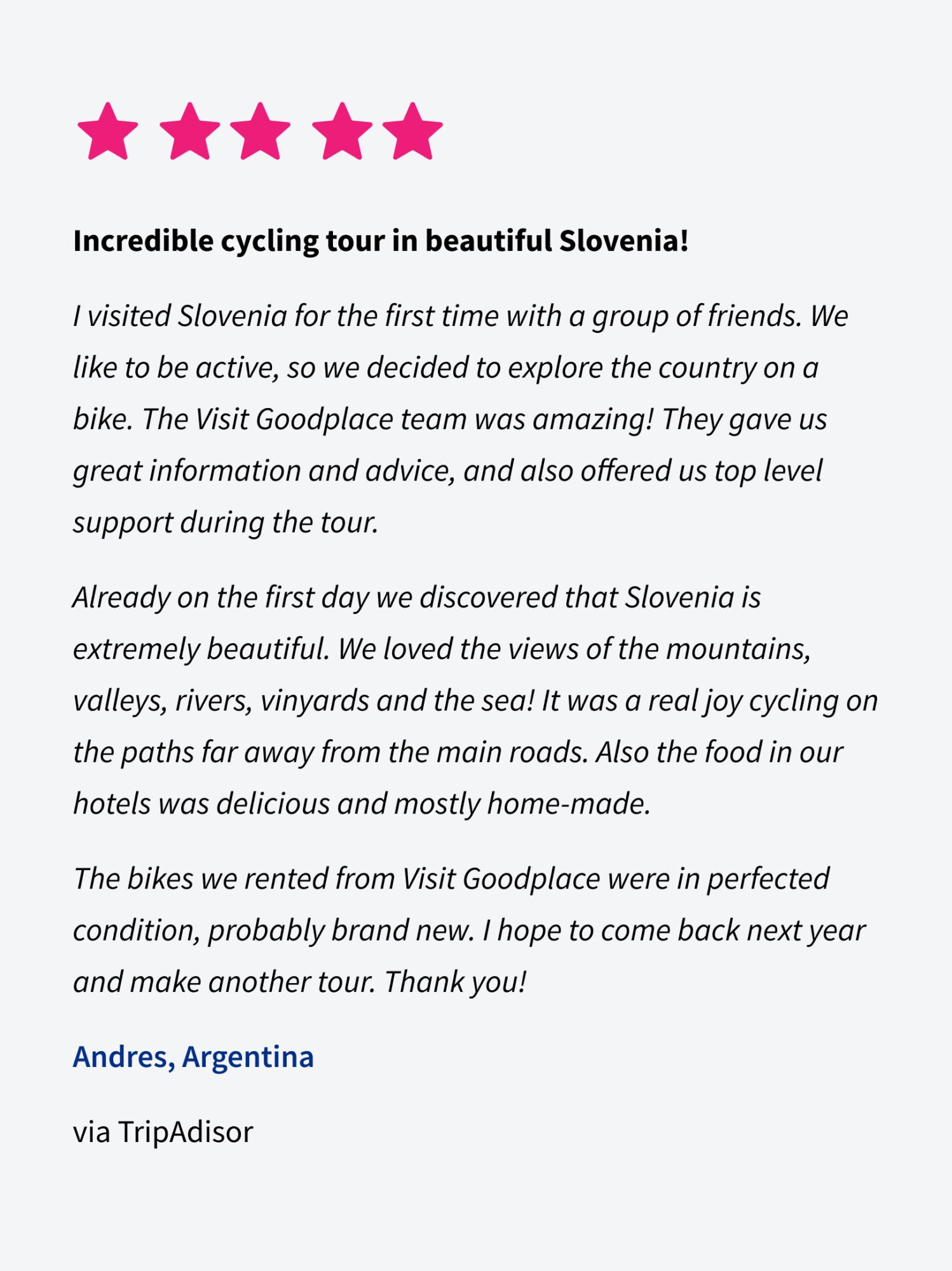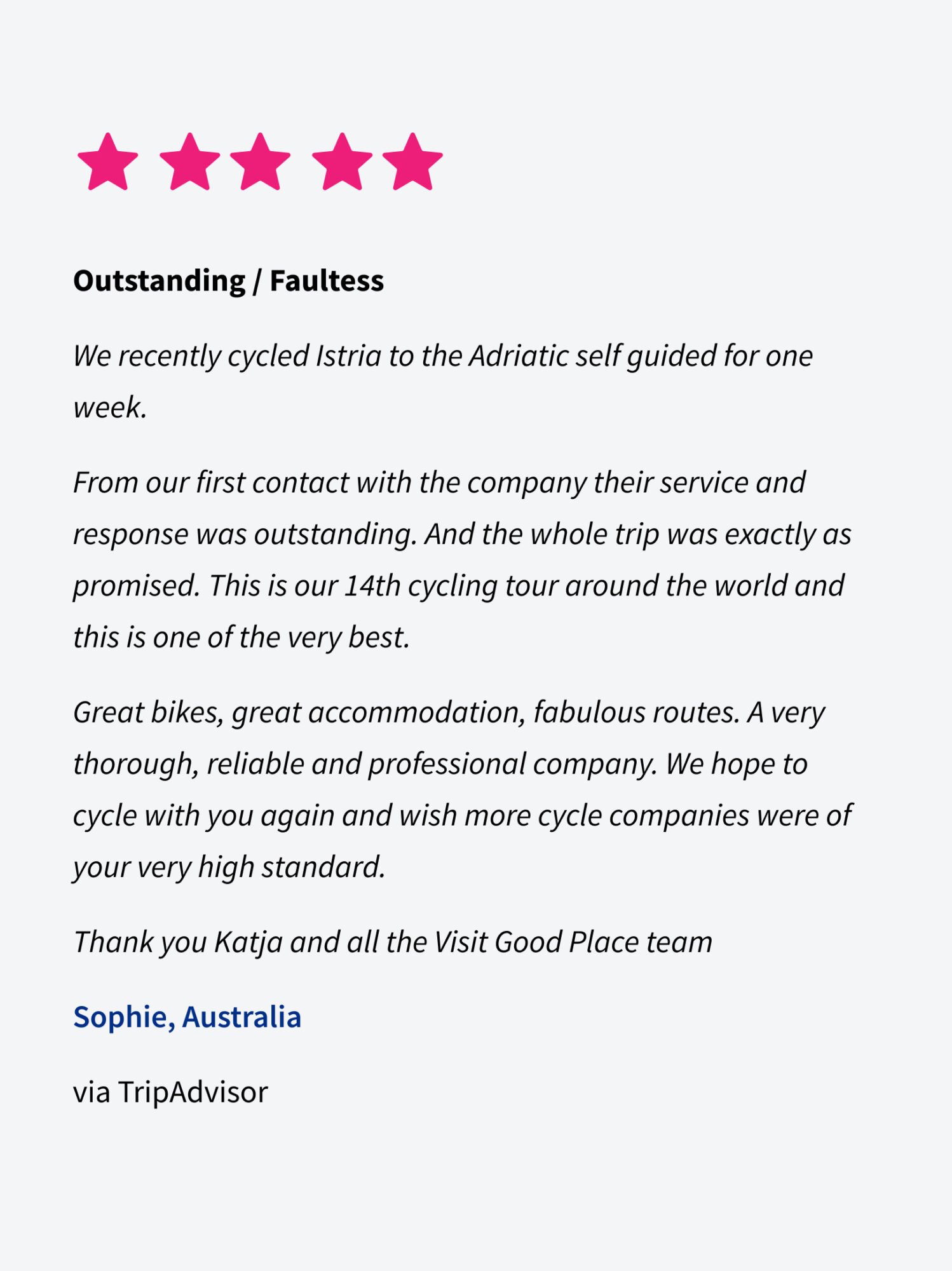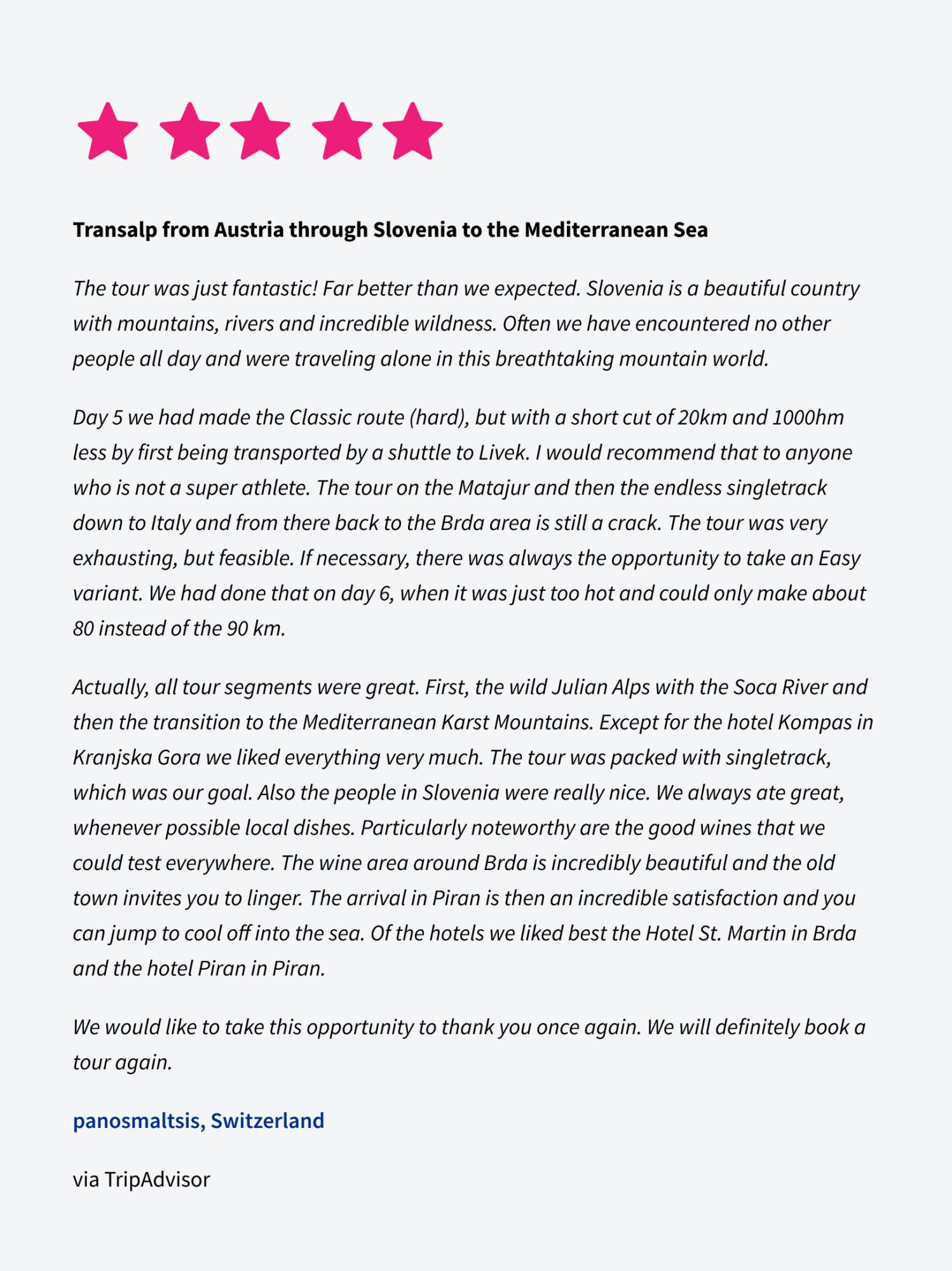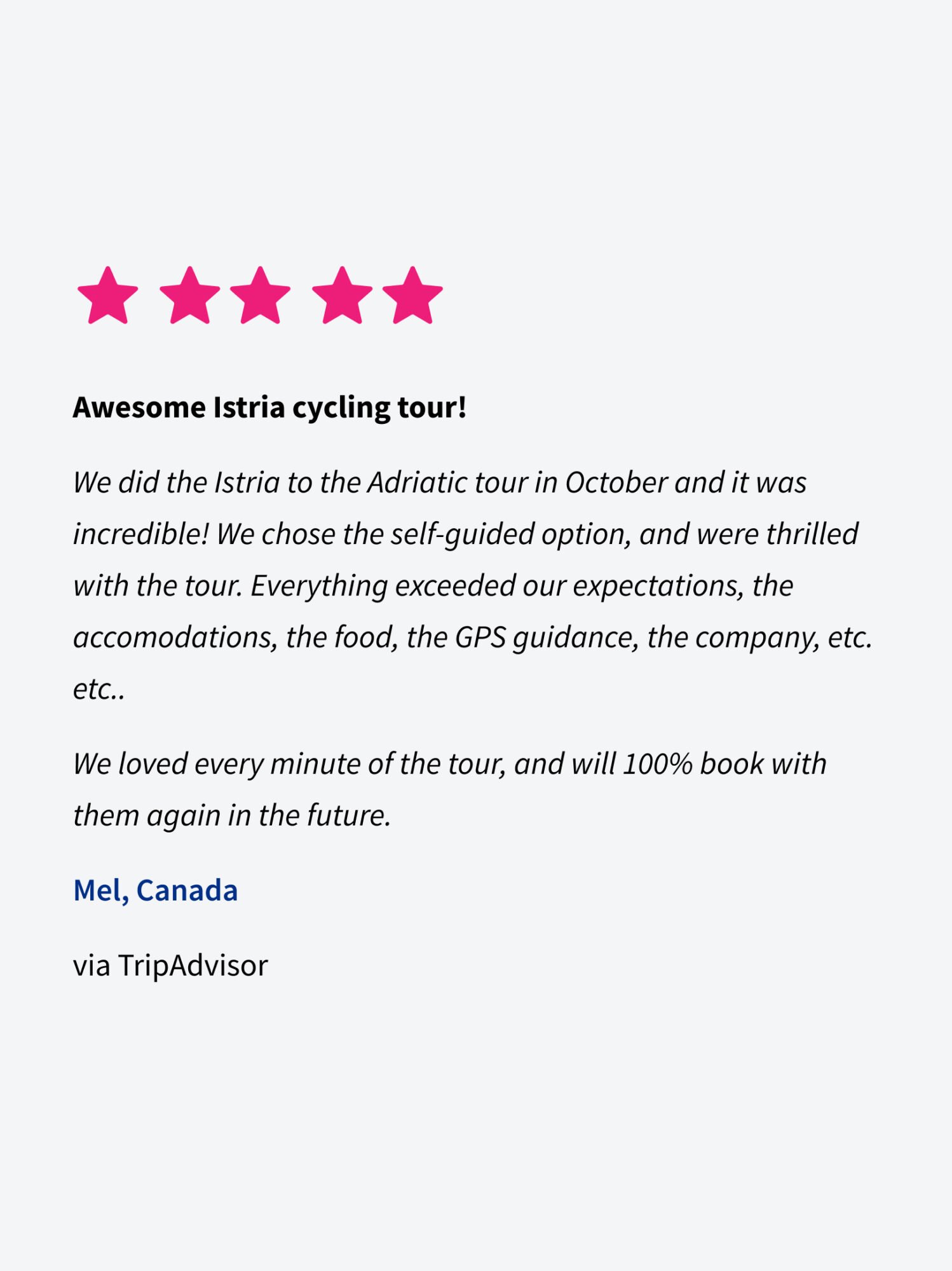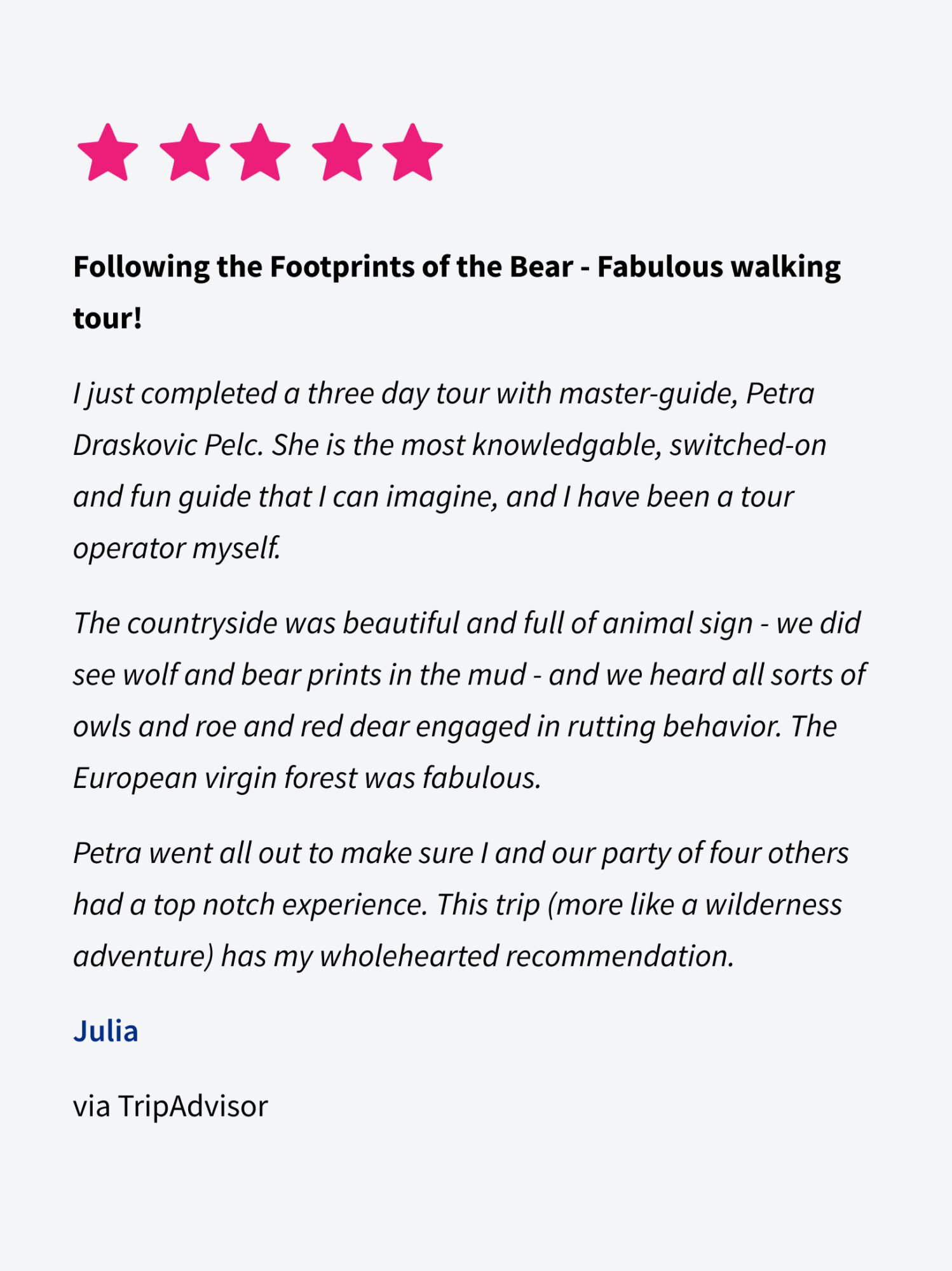 Arrival: MEETING AND BRIEFING IN TRIESTE
Istria Gourmet cycling tour begins in the coastal town of Trieste. Trieste is a beautiful city located in the northeastern region of Italy, known for its rich history and diverse culture. One of the highlights of visiting Trieste is the opportunity to try the local cuisine, which is heavily influenced by its location at the crossroads of Central Europe and the Mediterranean. The city is home to a variety of delicious dishes, including fresh seafood, hearty pastas, and delectable pastries. 
Tour briefing takes place upon arrival to this lovely town or the next morning. You will spend the night at the Savoia Excelsior Palace, a luxury hotel in Trieste,  sitting on the historic seafront, offering stunning panoramic views of the sea and city center. 
---
TRST — PORTOROŽ
Distance:
33 km
Elevation:
300 m
After the overnight in Trieste, it's time to hop on … a ferry.  This biking tour actually starts at Muggia, the only Italian port city in Istria, a seaside town close to Trieste. The town's architecture bears traces of its Venetian and Austrian past, and its harbor is home to a cutting-edge marina with 500 berths. Rich Istrian vegetation makes for a beautiful ride along the Adriatic coast. 
The former Parenzana railway track is soon followed by the road as it leaves Muggia and eventually crosses the border. Cycling in Slovenia leads to Portorož, the final stop for the day, after passing via the coastal settlements of Koper and Izola. Portorož won over many hearts with the echoing pulse of its nightlife. Experience the vibrant and sunny personality of Portorož by trying some of the local cuisine, known for its unique seafood dishes that have a characteristic taste and genuine Istrian aroma. 
If you're left with some extra energy and a taste for exploration, we highly recommend you prolong your ride for another 7 km to discover Piran. This peninsula, adorned by timeless sensational romance, has a deep-rooted tradition of salt panning and is one of the most preserved and authentic Mediterranean towns. 
Mind Hotel Slovenija provides a 5-star relaxation for the night. Located just steps away from the central Portorož seaside promenade, this hotel offers a range of wellness facilities, including indoor and outdoor pools, saunas, and a variety of massage and beauty treatments. Take a dip in the pool or unwind in the sauna to fully relax after a day of cycling.
---
PORTOROŽ — GROŽNJAN
Distance:
32 km
Elevation:
500 m
As the tour progresses towards the border, riders will be cycling on mostly flat and asphalt terrain on the Parenzana cycle path and pass through the Sečovlje Salina Nature Park. This park is home to the largest salt evaporation ponds in Slovenia and is one of the few places where salt is still produced using traditional methods. 
After crossing the border, cycling in Croatia will greet you with a slight ascent towards Plovanija, reward yourself with the Servolo local beer and a tasting of the king of fungi — truffles. Having refilled your energy and sampled some of the gourmet delights, continue pedaling along local asphalt roads to reach the highlight of the day, Grožnjan.
For centuries, Grožnjan has served as a guardian of the Mirna valley. In 1965, it was officially recognized as the "Town of Artists," leading to an influx of artists and gallerists who helped establish it as a cultural hotspot. Currently, the town boasts around 30 galleries and continues to be known as a hub for the arts. 
Just 5 kilometers further lies your final stop for the day — San Canzian Village & Hotel, a luxury Istrian dream home, situated in a medieval village of Mužolini Donji. Enjoy the premium experience of the Istrian countryside, where traditional meets the modern and treat your taste buds to all the culinary delights, this boutique hotel has to offer. 
---
GROŽNJAN — MOTOVUN
Distance:
30 km
Elevation:
450 m
This cycle tour through Croatia will take you on a journey through charming villages and beautiful landscapes as you make your way to Motovun. Cycling here is the perfect way to work up an appetite for all the delicious food and wine you'll be indulging in along the way while cycling in Croatia! You'll start the day by pedaling on local roads that take you through charming villages, giving you the opportunity to stop and snap some envy-inducing pics for your friends at home. Make sure to take a break in Oprtalj. Besides being Instagram-worthy, it's also rich in history and culture. The town is known for its well-preserved medieval walls and architecture, as well as its beautiful views of the surrounding countryside.
Don't worry about eating too much, as the cycling route through the blue artery of green Istria, Mirna Valley, includes a downhill portion followed by a gentle ascent on some gravel, which means you'll have plenty of opportunity to burn off those extra calories. 
After crossing the beautiful landscapes of the Mirna Valley, you'll finally arrive in Motovun, the most famous Istrian medieval town. This idyllic place is the final destination of the day and serves as the perfect backdrop for many events, including the International Motovun Film Festival held annually in July. But that's not all – Motovun is also home to a protected forest where precious black and white truffles thrive.
Resting perched on a hillside, overlooking the spectacular scenery of River Mirna valley, awaits a contemporary design Hotel Roxanich, offering a genuine Istrian adventure. After trying their zero-kilometer cuisine, leave some space for taste-jumps never seen before and relish in a wine-tasting session. Mladen Rožanić hides his long-aged and rare wines in the wine cellar, where you'll get the chance to try his masterpieces.  He's called the "first movie director of wine" for a reason. 
---
MOTOVUN — POREČ
Distance:
29 km
Elevation:
300 m
On the fifth day of your cycling holiday, you'll take an easy route through fields of fertile red soil, leading back to the stunning Adriatic coast. Be sure to take in the beautiful vines that line the landscape. The region is known for producing high-quality wines, and you may even have the opportunity to taste some of the delicious varietals.  A magnificent world of wines is here for your enjoyment. 
The road starts uphill and follows the main road, offering plenty of scenic descents. One of the highlights of the day is cycling through the beautiful vineyards – a true treat for the senses! 
When you reach Karojbe, turn your handlebars west and head towards the coast. As you cycle through charming coastal villages and narrow asphalt roads, you'll eventually make your way to Poreč.
Situated on the western coast of Istria, Poreč is home to the 6th-century Euphrasian Basilica, a UNESCO World Heritage Site known for its ornate Byzantine mosaics. This town, with a history dating back almost 2,000 years, is a hub of culture, tourism, sports, and entertainment. Oh, and did we mention that Poreč has won awards for being super duper clean and having beautiful public spaces? So go ahead and take it all in—just try not to get too lost in all the history and forget to try some traditional dishes. Whether you choose to dine on fresh seafood like succulent scampi, truffles, frittatas, or homemade pasta, make sure you pair it with great Istrian wines. 
End your day with a restful sleep in the plush bed at the Martis Forum Heritage Hotel & Residence in Poreč, surrounded by the luxurious amenities of the room. Its location allows you to take in the spectacular views of the remains of ancient Roman temples, and even the terrace of the restaurant is located right on the ancient paving of the Roman forum (1st century). 
---
POREČ — ROVINJ
Distance:
43 km
Elevation:
480 m
On the longest cycling stage of the tour, you'll have the opportunity to comfortably tour along the Adriatic coast in the first part of the day. Riding the cycling paths, you'll come across the charming fishing town of Vrsar—a place known for its magical sea views, vibrant colors, and rich historical heritage. It's no wonder that this little town was a favorite of the famous Casanova. Take a moment to soak up the beauty of the sea, enjoy some art, and grab a bite to eat at one of the cute cafes along the coast.
Moving away from the coastline, the cycling tour continues north, passing olive groves and reaching Lim Bay. Experience the beauty of this protected fjord covered in all sorts of evergreens and take the opportunity to taste freshly-harvested oysters along the way. Did you know, that this sexy bivalve packs a wallop of zinc, which is great for making you feel good and keeping up your energy? Make sure to stock up for an extra boost to the cycling tour. 
Continuing away from the sea, your journey follows a gravel forest path over some short ascents and descents. After reaching the lowest point of the trail, a steeper climb leads to the old train path, covered in gravel and crossing quite a few local roads.
The day finishes with a nice descent to Rovinj. One of the most 'photogenic' towns in the Mediterranean is an area of protected natural heritage. Visiting the Church of St. Euphemia (completed in 1736) is an absolute must. From the top of the bell tower, you can see spectacular views of Rovinj's rooftops and nearby islands.
Harmoniously situated on Rovinj's east shore, lies another Hotel treat for you. The Grand Park Hotel Rovinj (Maistra) hides many small pleasures, including a remarkable view of the Old town, a wellness & spa center, an indoor pool, and another pool outside, overlooking the sea. 
---
ROVINJ — BALE
Distance:
22 km
Elevation:
220 m
Today, you'll have a shorter and easier cycling tour with fewer ascents, giving you a chance to rest and relax. As you follow the picturesque cycling path, you'll pass by plenty of gulfs and capes before veering away from the sea and towards the village of Kokuletovica. Take in the stunning sea views—it's like a never-ending buffet for the eyes.
Following an exchange of asphalt and gravel paths, you will arrive at the Palud ornithological reserve. You can't enter it on your bike, but bird lovers can enter it on foot, and it's free. But wait! Don't spend too much time here. We've got a special treat stored for you. 
After a short day of cycling through Croatia, you'll finally reach your final destination close to Bale. Now it's time to visit the Brijuni National Park with an organized transfer to Fažana. The residual glamour of Brijuni exerted a strong pull on Yugoslavia's post-war leader Josip Broz Tito, who chose the islands as one of his many private residences. The Islands were a hot spot for celebrities and political figures alike during the years 1954-1980. Tito played host to a list of important figures and even invited some of Hollywood's biggest names, including Sophia Loren, Richard Burton, Liz Taylor, and Gina Lollobrigida, to join in on the island fun.
This archipelago is made up of 14 islands and islets, with Veliki Brijun being the largest. In addition to its stunning natural beauty, the islands are home to numerous dinosaur footprints — who doesn't love a good Jurassic Park experience? This island chain has also been designated a national park, making it a must-visit destination for nature lovers and dino enthusiasts alike. So go ahead and channel your own Chris Pratt—just watch out for any raptors! 
Going back to Bale leads you off the main roads towards visiting another magnificent Hotel. The Meneghetti Wine Hotel & Winery was started by Stancija Meneghetti, a man in Istria, who began cultivating his land and selling food to nearby soldiers in the early 19th century. The estate became known for its beauty and was later restored by a couple in the early 2000s.
It offers a charming fusion of nature and luxury. Guests can enjoy Meneghetti's signature spa experience, inspired by local herbs and wines (yes, it's called Vinotherapy!), a Michelin-recommended restaurant, swimming pools overlooking vineyards, and private gardens for relaxation.
---
BALE — PULA
Distance:
30 km
Elevation:
220 m
The final day of this cycling tour sticks to the coast, and follows a mix of cycling paths and quiet roads, offering plenty of opportunities to take in the wonderful views. Take a break on your way and indulge your taste buds with some of the delicious Istrian olive oil – it's the perfect way to treat yourself while exploring the region.
Then, after a short climb to Štinjan, you'll meet with the sea again, right in the abandoned military zone before reaching Pula. What follows is a picturesque impression of semi-past history—a "labyrinth" of half-overgrown, part-asphalt, part-macadam paths past former military installations and past the railway station to the center of Pula. 
Ready to be a gladiator for the day? Head to the ancient Roman Arena and unleash your inner Russell Crowe (minus the whole getting-killed-by-a-lion thing). This well-preserved amphitheater is a popular tourist attraction, offering guided tours and the chance to pretend you're a fearless warrior. 
To finish the day, continue south out of the town through the upper part of the center. You'll be partly helped by the bike lanes, which are separated from the road. Through the suburbs, you'll reach your destination at the Veruda promontory. 
Rising from the majestic greenery stands another soul-rejuvenating Hotel. The Grand Hotel Brioni Pula faces the open sea and satisfies all your adventurous gastronomic wants. To restore your body after a whole week of cycling, indulge in some of the best body treatments Istria has to offer and try their milk bath or Indian Stones massage.
---
DEPARTURE
The Istria Gourmet cycling tour ends with breakfast in Pula. After breakfast, a transfer is organized to the tour starting point in Trieste.  
---
Oct 6 - 14, 2024

GUIDED

April - early May

*SELF-GUIDED, TAILOR MADE

Late September- October

*SELF-GUIDED, TAILOR MADE
*The tour is perfect to start and finish up the season in April and October. The tour is also doable in early May and late September; availability, and price depends on vacancy at selected hotels. We don't run the tour during the summer months from June to August. Please contact us for an individual offer.
GUIDED
3.380 €
What's included?
We recommend guided cycling tours to everybody who seeks complete relaxation and wants to have only one thing on their mind – great cycling. Our guides will take care of everything else – navigation, interesting local insights, and technical support. Guided cycling tours are also perfect for meeting other enthusiastic cyclists from around the globe and creating lifelong friendships. 
Price for the guided ISTRIA GOURMET tour includes:
8-night accommodation in 4 – 5* best hotels in region
8 breakfasts and 8 exclusive gourmet dinners
Fully qualified and experienced cycling guide for the entire trip
Extensive Tour Booklet
Baggage transfer between the tour stages
Entrance fee to Brioni National Park, golf mobil rental
Tasting local specialties (gelato, truffle, wine, oysters, olive oil)
Cycling snacks
Meeting and briefing at the tour start
Final transfer from Pula to Trieste
24/7 hotline number (support)
Rates are valid per person, based on double occupancy on pre-scheduled departures. For individual departures feel free to contact us for the offer.
Optional:
Supplement for single room 1.100 €
Bike, e-bike and other accessories rental
Price excludes:
Travel and activity insurance
Personal safety and cycling equipment
Lunches
Any beverages consumed with dinners that are included in the package
Any other items not mentioned as included
SELF-GUIDED
What's included?
If you are considering a self-guided tour, you should take the following into consideration to make sure this type of trip is the right fit for you. Our self-guided tours are ideal for individuals who have prior experience in self-guiding tours and have successfully navigated with a GPS device. Having a basic understanding of bikes is essential, this includes being comfortable with basic bike maintenance tasks such as fixing flat tires or making minor adjustments.
Individuals must be independent and can navigate and orient themselves using the information provided. If you think you don't fit in this description, maybe a guided cycling tour would be a more enjoyable option for you.
The price of a self-guided tour depends on the number of people in the group, the touring dates and the time of booking/availability. Please contact us for the offer. See starting prices per person based on double occupancy below.
| | | | | |
| --- | --- | --- | --- | --- |
| # | 2 | 4 | 6 | 8 |
| price | 2.400 € | 2.100 € | 1.980 € | 1.930 € |
Price for the self-guided ISTRIA GOURMET tour includes:
8-night accommodation in 4 – 5* best hotels in region
8 breakfasts
Baggage transfer between the tour stages
Navigation pack: Ride with GPS Tour Experience Package, including detailed Guide and complete off-line navigation data (tracks, maps, POI), Online briefing
Final transfer from Pula to Trieste
Helpline for emergency situations during the tour
Rates are valid per person, based on double occupancy.
Optional:
Supplement for single room 1.100 €
Bike, e-bike, and other accessories rental
Price excludes:
Travel and activity insurance
Personal safety and cycling equipment
Lunches, dinners
Any beverages consumed with dinners that are included in the package
Any other items not mentioned as included.
TAILOR MADE
Would you like to customize this tour?
Would you like to customize this tour? Are you worried you are not prepared enough physically? Would you like to select a different starting or ending point, or perhaps have a day off before, after or during the tour? Send an e-mail to [email protected]
The adventure starts in Trieste, Italy, and ends in Pula, Croatia.
AIRPORT SHUTTLE
Trieste is surrounded by several international airports, those of Trieste Ronchi (the closest), Ljubljana, Venice, Treviso, and Klagenfurt, each of them located within a 2-3-hour driving distance. We are happy to arrange airport shuttles from any of these airports.
ADDITIONAL INFORMATION
One guided group can include a maximum of 8 people.

On

guided tours,

a briefing session is organized at the tour start and every evening. During the briefing, the guide(s) reveal details about the next day's cycling stage, including the altitude, length, difficulty, etc.

On most cycling stages alternative trail variations can be chosen according to the specific requirements of the group.

The meeting instructions and final trip arrangements are sent to participants two weeks before the tour start date.
The biking tour is suitable for hardtail bikes, e-bikes, and gravel bikes.
FAQ
You can find answers to frequently asked questions here: FAQ.
A quick way to get the first offer
Fill out the form & we'll get back to you in less than 48h!
Ready to make a reservation or you have some questions?